Why is January the Best Month to Start the Hiring Process?
Following the recent Christmas and New Year break, employees are back into the swing of the day-to-day and for many, considering their next career move.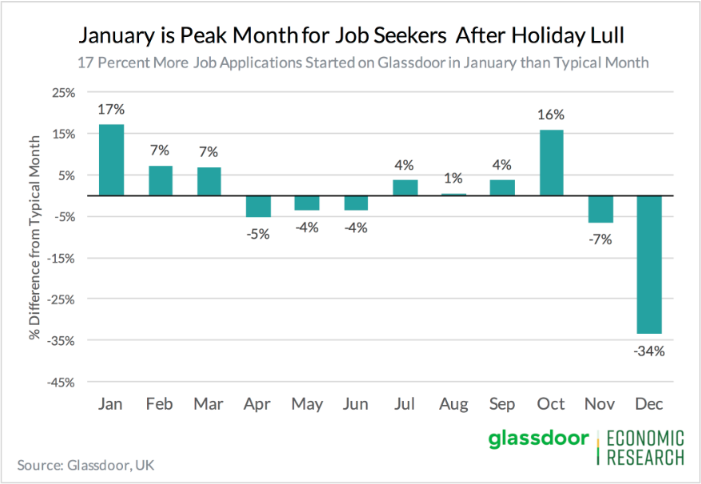 With that being said, it's now time to focus on your hiring process!
January is officially one of the BEST times of the entire year to start hiring, and you're probably wondering why that is.
An initial reasoning would be that with the influx of holiday requests, company shutdowns, and out-of-office replies, most employers hold off on hiring in the month of December and therefore, postpone until the new year.
But there are many other valuable reasons to consider hiring this month.  
So, why January?
The Recruitment Process Restarts
November and December are generally the months when businesses are finalising deals for year-end, establishing budgets, and forming strategies for each area of the business to shape another successful year ahead. 
After strategies and plans have been devised, companies can review and forecast their hiring needs, where additional resources can support their goals.
It's also important to consider, that with fewer people taking annual leave in the first quarter, the recruitment process moves at a faster pace than at any other time in the year.
Bonus Season Is Complete
As the fourth quarter hits, employees considering a change in job, will likely postpone their job search and endure the rest of the year.
This is generally aimed at employees who benefit from annual bonuses. If they've worked throughout the year to earn this incentive, they aren't likely to consider a new role until they've secured the extra pay.
Now that we've hit a new year, and employees have received their bonuses' this is the optimum time to reach out to active candidates.
New Year's Resolutions Come to Pass
After an expensive Christmas day, followed by a few days of relaxation, many people are geared up for a new challenge and one that offers a higher salary as we enter a new year.
There's also the psychological process we all go through at the end of the year, the extra time for reflection. And for many, our jobs are one of the biggest elements of our life and well-being therefore, it's often the first place our minds go when re-evaluating our happiness and goals.
So How Can You Make the Most of This Next Month, And Attract the Right Hires?
If you're ready to take 2023 by storm, it's vital to consider your current skill gaps and subsequently, the hiring process of finding additional talents to bridge the gap.
Candidate drop-out rates are growing for a number of reasons: a lack of adequate information from hiring teams, lower-than-expected salaries, and a lengthy recruitment process.
Here's how you can improve your recruitment process.
Offer Competitive Benefits
Whether it's offering a higher salary, flexible working arrangements, social events, high street discounts, or well-being programmes, offering more benefits is at the top of the list on jobseekers' priorities.
Nail The Job Description
The quality of the content in your job advert is just as valuable as the position itself.
The advert needs to stand out, gain interest immediately, and provide a true account of what the role will entail to draw in the right candidate.
Focus On Your Employer Brand Positioning
Enhance your employer brand and promote it in everything you do, whether that's via social channels, PR, or web posts.
Demonstrating how your company values, celebrates, and rewards its employees is vital in attracting the right talent.
Allow Your Employees to Recruit for You
Your employees typically have an untapped network on sites such as LinkedIn or Facebook.
If they are happy with their working environment and benefits, they'll be more likely to share with friends and family.
Maximise Our Onboarding Process
A smooth onboarding process is pivotal in making employees feel like they belong from day one.
It sets the general tone for a candidate's upcoming career, as well as lays the foundation for retention.
It's crucial for you to hire the right people for your business, but if you are limited with in-house resources, appointing a recruitment agency that can manage your job advertisement, reach out to the best candidates in the market, arrange interviews, shortlist the right people and manage the offer process, will be your best option.
As recruitment experts, our best advice for sustainable growth and long-term success is to prioritise your recruitment process throughout January and into the first quarter. You'll gain momentum and set the tone for a successful new year.
Get A Quote
Don't have the time to commit to hiring a new employee yourself? Let us handle things!
With more than a decade of recruitment experience and a database of a hundred thousand engaged prospective candidates across the Yorkshire, Lincolnshire, and East Midlands regions, we'll alleviate tasks like writing attractive job descriptions, running a multi-channel advertising campaign, and screening applicants. Submit a vacancy and we'll get back to you as soon as possible.
Back to Elevation News